Dale Chihuly Rare Pilchuck Inscribed Beautiful Pink and White Star Bowl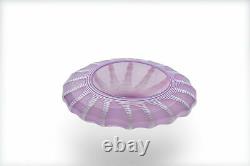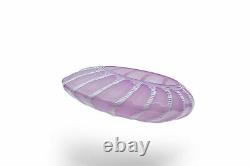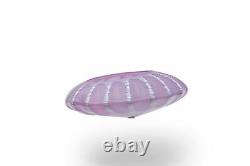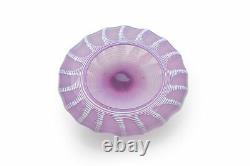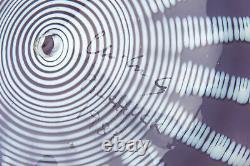 Artist: Dale Chihuly Medium: Hand Blown Glass Size: 3" x 7 3/4" Year: 1981 Condition: Perfect Museum Quality Signature: Inscribed Chihuly Pilchuck 1981 Provenance: Gallery COA A very rare opportunity to add a piece of early Dale Chihuly Pilchuck history to your collection. Think of the importance of that donation and how it introduced glass as a fine art medium! This beautiful piece was executed to perfection at the very studio Chihuly created and later changed the world of art. Chihuly, is known especially for his fine glass work and vibrantly colored original paintings, Dale Chihuly is one of the most famous modern American artists.
While his glass work is what made him famous, Chihuly is truly a master of many mediums. An early interest in art beginning at a young age spurred Chihuly to pursue a long and varied artistic education. Born in Tacoma, Washington in 1941 the artist grew up there and studies Interior Design at the nearby University of Washington. After his graduation he enrolled in the country first glass program at the University of Wisconsin. In 1968, he received a Fulbright Scholarship to study glass blowing at the renowned Venini glass factory in Venice, Italy.
A the Venini factory, Chihuly was exposed to the team approach to glass blowing that he would go on to incorporate throughout the rest of his career. He later went on to study and receive his second masters degree from the widely respected Rhode Island School of Design. After his graduation, Chihuly was asked to create and head the schools first glass department.
During this time, he also maintained his Washington roots by beginning the Pilchuck glass school near Stanwood in 1971. It was here he first began significantly pushing the envelope of glass sculpture. He began creating the indoor and outdoor artistic installation which would later go on to become a hallmark of the artists work. During 1971, Chihuly also opened his first exhibition in New York. The work showcased designs influenced by Navajo blanket patterns.
The Native American population of the Northwest would go on to play a landmark role in Chihulys work, as he would also go on to create a series inspired by their basket work. This famous series known as Baskets and Cylinders was showcased in 1978 at the Smithsonian in Washington D. After this exhibit, Dale Chihulys career really began to take off. By 1980, he was showcasing in installations, one man shows, and art exhibits around the world including ground breaking shows in Israel and Brazil. In 1983, Chihuly began using more color and abstract shapes in his glass work.
His Seaforms were the first to showcase these new techniques. Throughout the 1980s, Chihulys glass work expanded both literally through its immense size, and figuratively through its new techniques. Chihulys multitude of artistic experience and knowledge has made him able to combine elements of many disciplines to create a truly one of a kind aesthetic. The weaving technique he uses in many of his glass sculptures is taken from his earlier educator in interior design.
Similarly, he also credits his interior design background in being able to conceptualize a three dimensional work and its relationship with the space it occupies. Since the artist experienced a shoulder injury in 1979 and is no longer able to blow glass himself, the artists experience in painting and drawing has aided him in showing his team of glassblowers his final vision.
World's Most Demanded Contemporary Artists. Happens 6 times a year with dates and pieces picked at random. Dale Chihuly Rare Pilchuck Inscribed Beautiful Pink and White Star Bowl.
All items are listed with the utmost accuracy. If for some reason your item arrives and is not what was described please reach out to us immediately. No photos are altered and all photography is produced by a professional photographer. Some photos are imposed in living room settings to give you a general idea of what the piece would look like. Others may have a mock up of a framing option we offer.
Created for the discerning art collector, Modern Artifact buys and sells some of the world's most collected and demanded fine art, antiques and memorabilia. Modern Artifacts is headquartered in Minneapolis, MN and has clients all over the world. We establish relationships with many art dealers, collectors and the artists themselves, to ensure our clients are offered an extensive collection to choose from. With many fine works of art by top names such as Robert Wyland, Steve Kaufman and Bert Stern, you are sure to find a piece that catches your eye and inspires your imagination. Shop with us online today and experience one of the industry's leading art, antique and memorabilia retailers for yourself. High Quality, Unique Works of Art Modern Artifact specializes in high quality, unique works of art.
We have the hard to find pieces that you have been searching for and some of the eclectic ones you didn't even know about but just have to have. We understand the needs of our clients and seek out the pieces they want to add to their collection. Whether you are new to art collecting and are just building your collection, or if you have been collecting fine art and antique for years, Modern Artifact has you covered. Would you like us to frame any of our art to match your current framing or home?
We have our own in house framing. We can show you examples and even photoshop the frame onto the piece to give you an idea of what it will look like. Feel free to message us on any framing ideas. Reach out to us regarding financing options.
Have a piece you think we would be interested in? Art aficionados in the middle of the frozen tundra: Minnesota.
Here are some other pieces we're currently offering.. LeRoy Neiman Kicker Football Suite Signed Limited Original. Dale Chihuly Original 1982 Large White Seaform Handblown Glass Contemporary Art.
Leonardo Nierman Firebird Original Authentic Painting on Masonite 1967. The item "Dale Chihuly Rare Pilchuck Inscribed Beautiful Pink and White Star Bowl" is in sale since Tuesday, September 15, 2020. This item is in the category "Art\Art Sculptures".
The seller is "modern_artifact" and is located in Minneapolis, Minnesota. This item can be shipped worldwide.

---