Green, Pink & Blue Glass Art Deco Triple Mirror table top vanity dressing table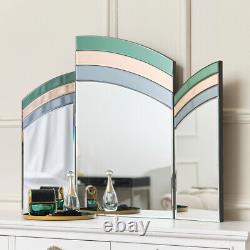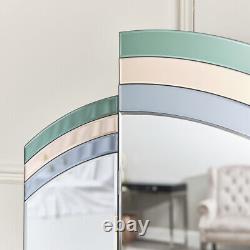 Shop Our Other Items >. Green, Pink & Blue Glass Art Deco Triple Mirror table top vanity dressing table. This Green, Pink & Blue Glass Art Deco Triple Mirror is a stunning vanity mirror, perfect for lovers of vintage inspired design and coloured glass. Made of glass, wood and metal, this mirror has an asymmetrical, triple mirror design and comes with bevelled, glass detailed sections in Green, Pink and Blue. A striking mirror ideal for placing on a dressing table, console table, shelf or vanity unit.
A beautiful mirror choice for those with vintage, art deco, mid-century modern or eclectic style spaces. This mirror is a table top design and cannot be wall mounted. Part of a large collection of table top, vanity and dressing table mirror available in a selection of styles and colours. Want to see more items like this? Browse our Mirrors category for all options. Colour: Green, Pink, Blue and Clear. Material(s): Glass, Metal, Wood. 74cm x 60cm x 2cm (width x height x depth). PLEASE BE AWARE THAT ANY ORDER BEING DISPATCHED INTERNATIONALLY, TO ANY BT OR SCOTLAND POSTCODE, WILL BE SUBJECT TO AN ADDITIONAL CHARGE, WHICH WILL BE CONFIRMED AFTER THE ORDER HAS BEEN PLACED. PLEASE NOTE: WE HAVE NO CONTROL OVER THESE CHARGES AND ARE UNABLE TO PREDICT THE AMOUNT. Welcome to our MelodyMaison e-shop! We've been around since 2004, starting off as a one-woman, one spare bedroom band, we now have a super-duper glamorous warehouse and showroom near Doncaster. In those years we have become a leading retailer for shabby styled French chic, Vintage style, French boudoir and cottage chic Home Furnishings, Wedding decor and Home Accessories.
Customer service is our number one priority, if you have a problem with your order or if you think we can improve anything, let us know and we will try and learn from it. We always treat my customers as I would wish to be treated myself. I personally take the most pleasure in sourcing and adding new lines to this website. I promise to add new products on a regular basis, so do keep visiting our site so there is always something new for you to see each time you visit. At Melody Maison, we hope you will agree we have lots of beautiful things!
Sourced from around the world, mostly with a distinctly Vintage French feel, either that of a rustic chic look or of ornate but affordable grandeur. We are the UK's largest retailer of beautiful French style dressing tables. We have a fabulous team of dedicated staff all of whom are nice people who love being helpful and talking about our stuff! Headed by myself, my passion is for sourcing unique & gorgeous new cottage style, boudoir,'shabby' styled worn chic French furniture and accessories and is what spear headed MelodyMaison to be born in the first place. We really value your custom and hope you enjoy our shop! An additional charge may occur for certain islands and regions of countries within Europe.
Currently, deliveries to the EU are behind and may take up to 30 days for your item to arrive. These terms and conditions do not affect your legal rights.

---