RARE HEAVY 29cm KOSTA BODA ARIA SWEDEN Göran Wärff AMBER ART GLASS VASE BOX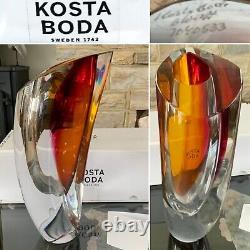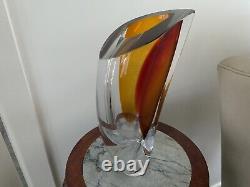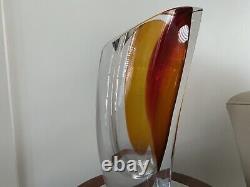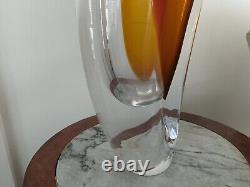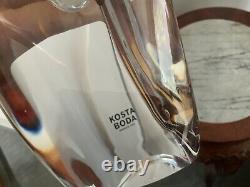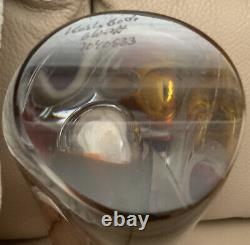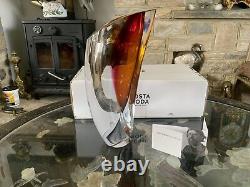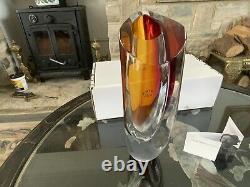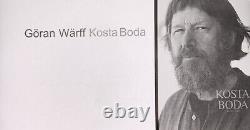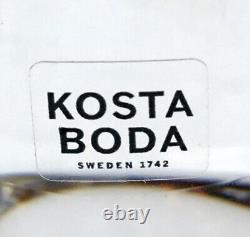 RARE HEAVY 29cm KOSTA BODA Göran Wärff ARIA 7040533 PINK/AMBER ART GLASS VASE. This listing is for a rare to find a KOSTA BODA Göran Wärff. Vase in perfect boxed, signed and mint condition.
The contrast between the colors and the clear crystal in ARIA form a dramatic, elegant whole. A piece of world class Swedish glass craft.
This is part of Kosta Boda Art Collection, signed and authenticated on the base. The ARIA Vase Pink/Amber is a highly decorative object for the eye. The colors reflect and the curved shape creates an effect for the eye.
The colors change when you look at the vase from different angles. The ARIA product line are handmade and blown by the glass masters in Kosta, Sweden. After cooling, ARIA is finished by artisanal and experienced workers so that the vase has smooth edges and a most attractive shape. SUPERB as a gift for a wedding or anniversary or other special occasion or great to keep if you are a connoisseur of master glass artisans workmanship. Please see my other listing for a smaller similar AMBER 2002 vase by KOSTA BODA Goran Warff. MEASUREMENTS: Height 11 3/8" (29cm) x Width: 5 1/2" (14cm). No damage or sign of use. Welcome to Kosta Boda, one of the world's leading brands in glass and glass art that still manufactures glass in Kosta, Småland. Kosta Boda has been in our hearts since 1742 and is one of Sweden's oldest brands. Over the years, some of the world's foremost glass artists have made glass for Kosta Boda. Vicke Lindstrand, Erik Höglund, Gunnar Cyrén, Ulrica Hydman-Vallien and Bertil Vallien to name a few glass artists.
Kosta Boda stands for innovative design with a personal touch and high-quality glass design. Kosta Boda has retained its historic charm and traditional manufacturing methods while developing modern techniques that broaden the designers' possibilities of expression. If you need more photos or information please message me... I try to describe all the items as accurately and as honestly as possible, and I always include photos or scans of the actual items. My items are usually vintage or antique, very rarely new, and condition will sometimes reflect this with minor marks, wear on gilding etc.
Anything major such as cracks chips or major loss of gilding etc will be pointed out in the description and shown on the photos. If you are still unsure as to the condition etc. I do my best to research the item and its history and pass that information on to my customers, you can google items and find the same information I do. Vintage or pre-owned items will often show some signs of wear due to their age, and there may be something I overlooked.
Any condition outside normal vintage wear, like chips or cracks or serious defaults, will be noted. Also take a look at my other items for more Asian, cloisonné, Glass, Antiques, Silver, Bronze, Copper, China, Horn, and many other collectables.

---